Browsing all articles tagged with RFcat
Introduction
Its been absolutely ages since I've posted anything on the blog, not that I havent been doing things, just really not many things I felt good enough to write an entry about. I got a lot of feedback regarding my previous entry about Hacking Fixed key remotes and I decided to build on that slightly.
One of the pains of the previous method was that it was a rather tedious to do the following:
* Finding the key for the remote essentially it was broken into:
* Finding the signal with RTLSDR
* Saving demodulated .wav
* Running a script to decode that audio
* Replay remote with RFCat
* Transmitting the remote also meant another piece of hardware (RFcat) and then taking the signal from the decoded script into a format RFCat understands.
So much like the sex pistols album I am also going to be flogging a dead horse, this time the AM/OOK one. In this blog post I will explore discovering signals as well as replaying them with RFCat.

Previously I discussed using my RTL-SDR to merely listen for analog audio signals. In this entry I'll discuss using it to decode digital signals (this example on fixed remote signals often used for garages / gates ) so that they can be replayed/brute forced with something like the RFCat project (based on TI's CC1111EMK module). This has probably been done to death already but I figured since I struggled with it maybe this will help someone else do it a lot quicker (and mostly cause I think its cool).
Overview
The basic components are:
* RTL-SDR on a windows machine with the HDSDR application installed (really easy to use — saves me doing hard work)
* Audio application to look at demodulated stream (I like the open-source project Audacity )
* RFcat under linux for easy transmission of data – find more about RFcat at http://code.google.com/p/rfcat/
Then there are 3 basic steps to a replay/bruteforce attack:
* Capture Signal: Figure out what frequency it is on, figure out what modulation is used
* Decode Captured Signal: Decode the signal to data you can work with so you can replay it and if possible brute force similar ones
* Transmit Signal: Send off your data for epic-winness (okay its not that complex, but it still feels cool)
Capturing Signal
I am going to assume at this stage that you have access to the remote (otherwise it may be illegal, I think.. lets just go with that). The easiest thing to do firstly is try and identify your remote, here is my garage remote for the complex that I live in (with many garages all of the same type):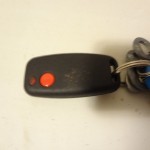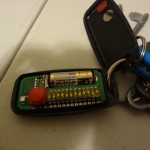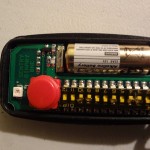 Recent Posts
What?
Not the quickest of cats
on the best of days.
Tag cloud
Donate
For electronics/other to play with:




Archives