Browsing all articles in Coding
Its taken a lot of motivation to start writing this, and I hope its okay, I have a mental block that I need to write this and the second post about magstripes before moving on to some new things with my plants I want to try.
Eye Candy:
My friend Roelof Temmingh (@Roeloftemmingh) made this cool video for my talk, check it out below or at http://vimeo.com/51228567.  Please note we had permission to test out the door at Senseposts' old office :)
Mission Plausible from RT on Vimeo.
:)
Previously I discussed using my RTL-SDR to merely listen for analog audio signals. In this entry I'll discuss using it to decode digital signals (this example on fixed remote signals often used for garages / gates ) so that they can be replayed/brute forced with something like the RFCat project (based on TI's CC1111EMK module). This has probably been done to death already but I figured since I struggled with it maybe this will help someone else do it a lot quicker (and mostly cause I think its cool).
Overview
The basic components are:
* RTL-SDR on a windows machine with the HDSDR application installed (really easy to use — saves me doing hard work)
* Audio application to look at demodulated stream (I like the open-source project Audacity )
* RFcat under linux for easy transmission of data – find more about RFcat at http://code.google.com/p/rfcat/
Then there are 3 basic steps to a replay/bruteforce attack:
* Capture Signal: Figure out what frequency it is on, figure out what modulation is used
* Decode Captured Signal: Decode the signal to data you can work with so you can replay it and if possible brute force similar ones
* Transmit Signal: Send off your data for epic-winness (okay its not that complex, but it still feels cool)
Capturing Signal
I am going to assume at this stage that you have access to the remote (otherwise it may be illegal, I think.. lets just go with that). The easiest thing to do firstly is try and identify your remote, here is my garage remote for the complex that I live in (with many garages all of the same type):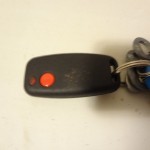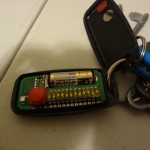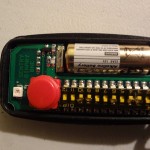 This is just an update on the Arduino watering system, everything seems to be going well whilst I am away (I am away for ~a month, till the end of Blackhat / Defcon). In winter the plants don't require nearly as much water and it seems that after 8 days the water level has dropped only 11.5cm in a reservoir ( read orange bucket ) that is about 60cm across.  The orange container is smaller at the bottom, probably around 45cm so an guestimated average of say 50cm for the diameter.
At this stage I was going to do the math to work out how much water had be consumed minus that of evaporation, but I'm too lazy right now.
At this rate that container should keep the 4 plants near it (tomato, chilli, orange, peppers) as well as the palm and the 2 trays as well as the random flower going for about 6 weeks!
Having a look at the stats everything seems pretty stable with the 4 plants :)

-AM
Intro
So its been nearly a month since I last put a blog post up and I have been working on some stuff in my free time between work (been traveling to the US and took a weekend off to visit some friends in Canada). I'm not particularly in the mood to write a new post, but you know how it is, if I don't start writing it I'll never get round to it.
Essentially I have always been fascinated by the idea of being able to 'hack' with/into physical things, whether it be the Arduino and my watering system (btw you can see those stats at http://andrewmohawk.dyndns.org/AWS/), changing data on RFID cards or being that sneaky kid jackpotting ATM machines.
I started looking at magnetic stripes, mostly because they are *everywhere*, from bank cards, customer loyalty and even parking systems.
Overview
The basic gist of the system is that there are many tiny magnets or magnetic particles (usually iron oxide) which are magnetized in a specific manner within a magstripe. Essentially you take the card (or think of it as many magnets) and put it next to a magnetic reader (card reader) which then reads the fields. These fields are then taken to good ol 1's and 0's and used within backend systems after a bit of decoding.
The magnetic stripe on a card is actually made up of 3 different 'stripes' or tracks (usually – different types of cards will have a different number of tracks), right above each other. Each of these tracks can hold different amounts of data and for the basic breakdown you can read up about em at http://www.gae.ucm.es/~padilla/extrawork/tracks.html and http://www.ded.co.uk/magnetic-stripe-card-standards/
TL;DR – Track 2/3 = Numbers, Track1 = UPPERCASE,numbers
Read more »